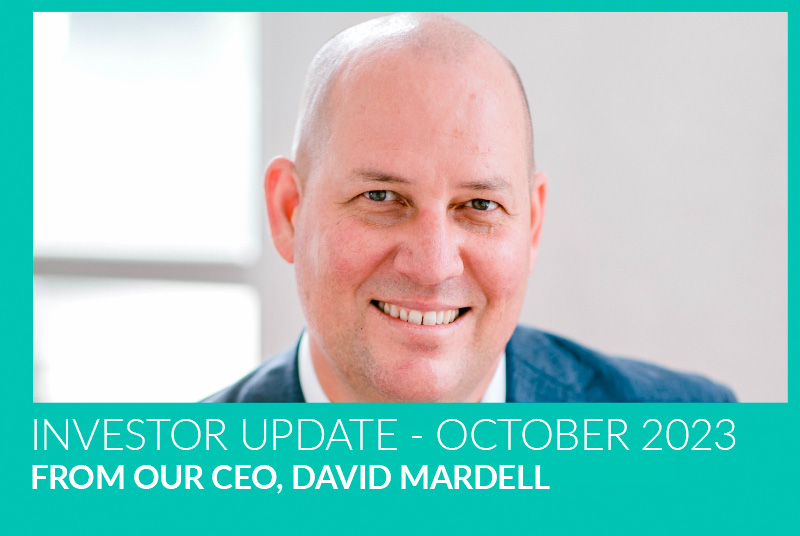 From our CEO – David Mardell.
October 2023
One of the interesting topics that continues to hold our attention is that as we move through this year is the idea of being prepared for economic changes. So, while we cannot be prepared for everything (we simply do not know the future), we ought to be at least prepared for repetition of past events.
They say history does not repeat, but it does rhyme. There are plenty of examples to draw on, but we certainly cannot predict the future but being prepared means we should not need to.
As the events of the past 10 months have shown, we have entered a period of rising inflation and interest rates. Even though we had a reprieve this month (October) of a further rate rise, the new Reserve Bank Governor Michelle Bullock did highlight that there may be continued rate increases before the end of the year to curb further inflation.
The recent surge in the September retail spending figures did not help as they sprang to life in the last quarter. This is good news for retailers as they enter the Christmas period, however, may be to the detriment of further rate hikes.
Notwithstanding this, it is surprising how resilient our economy is, however it does not bode well for an ongoing reprieve in interest rates and instead there is now an additional risk that there will be further rate hikes before the end of the year.
So, with rising interest rates and inflation challenges, making your capital work hard for you and not being eroded over time by inflation is important. What to do? In my opinion, diversification is the most reliable insurance, and property with secured first mortgages comes to mind.
Our investors over the last five years have benefited off the back of the burgeoning property market as well as our ability to grow our lending book in a responsible way. With rising interest rates, we can pass on these costs to our borrowers which directly increases the returns for our investors and that's why, Skyring has outperformed our benchmark for over 5 years.
With some further good news, it was approved at our October Board meeting, the Skyring Fixed Income Fund rate of return, from the 1st of November will be increased to 7.05 per cent pa for all new and existing investors.
As a leading income fund manager, this outperforms the current 4.1 per cent RBA October cash rate as well as exceeds the Annual CPI inflation at 5.4 per cent in the September 2023 quarter.
Finally, as I always say, to outperform in a competitive market, it pays to find niches and specialities with financing and development solutions to assist our clients grow their wealth. At Skyring we like to lead the way and exceed in markets when all other managers just float along in a 'rising tide that eventually lifts all boats'.
Till next time.
David
SKYRING | CEO
==